This year at Cleis Press we're tossing Valentine's Day (and even Galentine's Day) out the window! This year, we're all about advocating for self love. Whether it comes to your career, family, relationships, or the bedroom, you will won't be able to live your fullest and best life until you love and appreciate yourself!
So this "Self Love Day" treat yourself to some well-deserved "me time" and enjoy this sneak peak from Rachel Kramer Bussel's newest erotica collection, Erotic Teasers— a very BDSM-friendly collection that is all about the art of the tease. After all, the journey is more important than the destination and every journey in Erotic Teasers will get you there. You may even be inclined to make a few round trips just because you deserve it (or you can't help yourself)!
---

Excerpt from "Aphrodite's Garden" by Rebecca Chase
The night started like all weekend events, with the lineup.
Stephanie's heartbeat thundered and her nerves nearly choked her as eyes slowly slid down her form.
It was as if she were back in gym class—eyes inspecting her, opinions being made of her performance. Then, it was a popularity contest she couldn't win. Here it was different. In Aphrodite's Garden, she held queen status. Instead of being ridiculed or ignored, she was regularly the first chosen.
"It has to be her," she heard a soft voice call out. "Athena is the only one I want serving me."
Stephanie, or Athena as she was known in Aphrodite's Garden, felt the familiar weekend thrill electrify her body.
Mondays to Thursdays, Aphrodite's Garden was a normal, expensive Greek restaurant, but during the weekends it became something more decadent. It was still a restaurant but with a sexual tease and unspoken promise.
Casually, she glanced at Electra and Hades, both of them enjoying that their presence alone aroused strangers. They adored their weekends here. They didn't serve for the money but the satisfaction and power that came with being desired.
Fifty pairs of eyes investigated every inch of Stephanie's golden skin, or as much as her short Grecian dress allowed. White chiffon draped across her shoulders before plunging at her breasts, stimulating the clientele and suggesting that for the right price she could be theirs.
At the start of the night, the waiters and waitresses, known as the servers, would line up for those who had booked a table. Each table made their choice of who would serve them and, depending on availability, they'd be allocated that person.
The rest was up to the server. It was their challenge to spend the evening gaining a hefty tip, in whatever way they chose. There were rules, lines that couldn't be crossed, but generally it was known that they had an "anything goes" policy.
The server who earned the largest tip would be taken into the Secret Garden, a room designed for fornication. There they'd be joined by a member or two from the winning table to enjoy an hour doing whatever pleased them. Everyone was a winner.
The restaurant was the brainchild of Stephanie, Dean, and Pam, or rather Athena, Apollo, and Persephone, as they were known in the Garden. It had begun when they were poor and horny at university but over the years had developed into a successful business.
Stephanie surveyed the scene in front of her once more. Which table would pick, or win, her tonight? She was hot property in Aphrodite's Garden, a goddess who usually got her own way. Need throbbed at her groin, making her subtly roll her pelvis back and forth to enjoy the stimulating touches as her sex rubbed against her panties.
Once a month, a ladies-only night reigned over the restaurant. It pushed her to work every angle to get the biggest tip, including once stripping down to her underwear and offering herself as a sushi plate, a brazen act that had been rewarded by a night with two beautiful actresses in the Secret Garden.
As with a typical ladies' night, there was a heat in the room and all the groups, a mixture of bachelorette parties, birthday celebrations, and work social events, felt it. It was a hunger accompanied by unspoken wants. Could they express their long-held desires safely here?
Athena's eyes skimmed the groups, considering who she'd like to serve that night. There were many beautiful women, respecting the dress code in a variety of colors and styles. She didn't have a type; curves, long legs, tiny waists, or rounded butts turned her on. All women were beautiful to her and she loved showing them how much allure they could have if they learned to harness it.
Staring unashamedly at one group, a work social, she felt the flush of lust that had been absent recently. Standing in the center of the group, her eyes wide, her fingers nervously twisting her long blonde hair, was Megan Stone, who'd been the most popular girl at Athena's old high school.
Megan had never worried about gym class. Her friends would spit out derogatory names at Athena based on her Greek heritage, but Megan herself was never a bitch. Athena had been an odd-looking teenager, with lips too big for her face and dangerously bushy eyebrows, a contrast to Megan's blonde perfection. Megan was the stuff of fantasies and at university, when Athena had started to understand that she was attracted to women as well as men, she fondly recalled her. The rumor was that when the graduating class had moved on to work or university, Megan had headed down the aisle with her boyfriend, her pregnant belly barely showing.
Since then, there had been other rumors, the most recent that Megan's husband had ditched her for a younger model. Athena glanced at Megan's bare ring finger, a white mark visible.
"I have to get that group," Athena whispered in Persephone's ear as she crossed the restaurant, her dark eyes never leaving Megan's face.
"You know you won't win." The pretty, ginger goddess nodded in the direction of a rowdy group of ladies sitting at table six. "They have money to burn."
Athena moistened her lips, wondering how Megan would taste. "Surely you're not doubting me. You know from experience about my skills, honey."
She teased Persephone's neck with her warm breath.
A quiet moan escaped from Persephone's lips. They both knew how acutely aware she was of Athena's abilities. "If you insist. But play fair, okay?"
Athena walked away with a smile; she had every intention of playing tonight, but fair wouldn't come into it.
Unsurprisingly, she had gotten her way. Rolling her hips, which had developed late in life along with her beauty, she wondered whether Megan would remember her. Megan had always been stunning, but something had changed, Athena thought, as she appraised Megan's shape in a tight, cherry-red dress that clung to every curve. She was plumper than Athena remembered, with curves replacing toned limbs and a slight podge at her stomach. Megan was a woman now and Athena had to claim her.
What I wouldn't do to have her between my legs, she considered, eagerly imagining the sight of the blonde waves below her. It was time to earn her tip.
"Ladies," she said. "I am Athena, your server this evening. I will do and be anything you wish. If the food you desire isn't on the menu, I will find it. If my outfit doesn't please you then I will change it. Your pleasure is mine."
The women looked at her with a mixture of curiosity and disbelief, but not with the naughty gazes she was hoping for.
"Have any of you eaten with us on one of our weekend nights before?"
Two of the more confident-looking women raised their hands.
"We're not at school now," Athena replied with a lingering look at Megan. "First I want to thank you for returning to Aphrodite's Garden. Is there anything you'd like us to improve upon based on your previous experience?"
Athena stepped closer to the willowy beauty, whose eyes matched her emerald silk dress.
"You have stunning eyes. What's your name?"
"Carol."
"Well, beautiful Carol," Athena replied, bending in front of her and displaying her cleavage in an attempt to entice her. "What could I do better for you tonight?"
"I would like my salad to have a bit less feta this time," she explained, clearing her throat awkwardly.
Seducing this group wasn't going to be easy, Athena realized, plastering a smile on her face and leaning closer so that her bum brushed Carol's hand as she topped up her wine for her. Encouraging the consumption of alcohol wasn't forbidden, as long as your table didn't cause trouble.
"I shall ensure your salad is perfect. Any other requests?" Maybe tonight wouldn't be her night. She could already see Electra being dragged willingly onto the laps of table six.
"I was wondering," a quiet voice caught the attention of the entire table. Athena felt a tremor in her thighs when she saw the words were coming from Megan's lips.
Athena nodded her encouragement for her to continue, hoping this wasn't another feta-related request.
"If I wanted your hair to be a little different, could you change it for me?" Megan stood. Her hands trembled as she reached out.
"Of course." She fought her craving to close the space between them instantly; seduction was a game, not a demand for gratification.
She slid closer, her eyes meeting Megan's. "Please do whatever you desire with me," she said, slipping herself between Megan and the table, hoping the invitation would be accepted by the end of the night.
The rest of the table was incredulous. Was Megan acting out of character?
Soft fingers stroked the nape of Athena's neck, causing goose bumps to rise on her arms.
"You have a beautiful neck, feminine and yet strong. It would be a shame to hide it," Megan whispered next to her ear, her breath teasing the nape of Athena's neck.
"I need to pin up some of your waves." Megan's fingers stroked through her hair, twisting it slightly. Pleasure traveled all the way up to her scalp, drawing a shiver of longing, her sex pulsating slightly in expectation of more. Deftly, Megan worked, taking tendrils between her fingers, caressing them, inflaming Athena's body. Desire radiated between her legs as if it were the first time she'd been touched by a woman.
"Turn and look at me," Megan requested.
With a dry throat, Athena turned and stared. Her tongue swelled in her throat as they gazed into each other's eyes. Megan's fingertips continued to brush across Athena's skin, her nails gliding across her bare shoulders, her temptation constant.
"You're stunning," she uttered.
Normally, Athena would have used this to her advantage, skill and experience enabling her to maximize her tip, but she was speechless.
To be looked at by Megan with hunger and adoration was unexpected, and the extent of her reaction frightened her. Weekends at Aphrodite's Garden were about lust, the scent of sex hanging in the air, but this was clearly passion and love.
---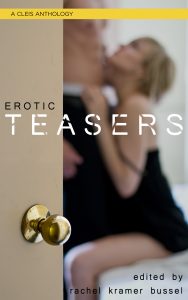 Need to see how Megan and Athena's story ends? Lucky for you Erotic Teasers is now available where anywhere books are sold. Or, even better, support your local independent bookstore and place your order through them!
Amazon • iTunes • Nook • Google Play • Kobo
Follow Rachel Kramer Bussel!
Twitter • Facebook • Instagram • Website • Amazon • Bookbub •  Goodreads
Don't forget that we are running a Valentine's Day Sale on all our print books purchased on our website. You'll get a whopping 40% off your entire order if you use discount code VDAY2019.
Not sure if you are ready to buy? Follow us on Twitter, Facebook, or Instagram and sign up for our newsletter and you'll be entered to win a book bundle featuring Erotic Teasers among many other recently published books from Cleis Press.