We've read the previous stories of Sophie and Mont in Until Summer Ends and of Jared and Millie in Until Winter Breaks. Now it's time to return to Redwood Bay, a sleepy little Pacific Northwestern fishing town that may appear calm and quiet on the outside, but supplies us with non-stop, drama-bespotted, contemporary romances.
Here is a little sample of what you can expect from the burgeoning romance between Tripp Thurgood, a lifetime resident of Redwood Bay, and mysterious newcomer and fishmonger, Hilary Finnegan, a transplant from Miami who wears scarves over her gaze-inducing scars. But does she wear those scarves to protect her past or to protect herself?

Tripp sensed Hilary the moment he stepped onto the pier. He couldn't see her, but her recognizable scent lingered in the space where she'd been. He finished with one customer and glanced up, searching for her.
He caught himself and focused on the couple in front of him. The sous chefs from the nearby national park. He wasn't sure why today he suddenly needed to sell fish to Hilary. Sure, he liked her. Maybe he'd started looking at her differently these past few weeks. He didn't think she'd seen him as more than an acquaintance—at least she'd never acted like she had.
Her watching him eat a meal after his date had abandoned him could hardly be counted as romantic.
He finished with the couple, and Hilary appeared. Her grin lit up her face as she held her phone to her ear. He smiled back at her, and she lifted her hand before turning to complete her call. Only seconds passed, but Tripp felt like the world had paused.
He wasn't quite sure what to do with these new feelings for Hilary. He wasn't even sure when they had sprung into existence. Simply having Jared suggest a relationship was possible with Hilary hadn't awakened something that wasn't previously there.
While she wasn't looking, he enjoyed the curve of her hips and the length of her legs. The dark black romper she wore seemed almost criminal, and a flush flooded Tripp's whole body.
She turned back to him, and he dipped his chin to his chest so his eyes would fall on the fish in front of him. He cleared his throat, trying not to make too much noise, as she said, "Morning, Tripp."
At the genuine, sweet sound of her voice, Tripp glanced up. Her beauty nearly stole his breath, but he managed to inhale without sounding like a squeaky balloon. "Hey, Hil. What'll it be?"
"I heard you had swordfish."
"I do." He turned toward the cooler behind him. "I was up all night," he said, his words running away from his brain. "Thinking about you." He spun around. "I mean—not that I was thinking about you. Thinking about how you ate that ice cream. I shouldn't have eaten it so fast. I was sick for hours."
Hilary tucked a lock of hair that had escaped from her bun. "Wow, I didn't know big, strong men like yourself got sick from eating ice cream."
He thrust her package toward her. "Eating ice cream too fast."
She took the fish and handed him her card. "Want to go get some more tonight?"
"Heavens, no." He counted out her change. "I mean—" He took a deep breath to try to find his center. It didn't work, but he really wanted to stop saying stupid things. "I can't go tonight."
"Oh, okay."
"What about for lunch?"
Hilary's eyes locked with his. He couldn't seem to look away from their foresty depths, and he wondered what she saw in his eyes.
"I'm meeting some friends for lunch," she said. "Sorry."
He handed back her money and stuffed his hands in his pockets. "That's okay."
She backed up a couple of steps, stopped, and cocked her hip. "You know, you should go out with my friend Andrea."
Tripp's heart crashed to the soles of his feet and stayed there. "Andrea?" Now his voice sounded like he'd sucked in a lungful of helium.
"Yeah, she's—"
"I'm not really looking to date anyone right now." She pressed his lips around the lie.
"Oh, I just thought—you were out with that other woman, and…." She lifted her free hand up, palm forward, as if to say, Never mind.
Tripp watched her walk away and collect a couple of packages from Ben, who then went with her carrying twice as much as she was. A hole opened inside Tripp, but he ducked his head and did what he'd always done: He worked.
Hours later, after he'd sold his entire catch, after he'd scrubbed down his fishing boat, after he'd settled behind his desk in his office, he let Hilary's words rebound through his mind. Had she really tried to set him up with another woman? Why would she do that?
Tripp pulled a folder toward him and flicked it open. He couldn't focus on the contents though, and he ended up pulling out his phone. "Call Hilary Finnegan," he commanded, and the phone responded with, "Calling Hilary Finnegan."
She'd claimed she was having lunch with friends, but Tripp had detected the hint of a lie between her words, in the way her chin lifted just a notch, in the false quality of her voice.
"Hey," she said, and the distinct sound of restaurant chatter in the background came through the line.
"Who's Andrea?" he asked. He hadn't meant his question to sound like a police request.
"Oh, uh, she's my landlady's daughter. She's nice."
Tripp didn't care about Andrea, but he couldn't say that. Maybe he should just go out with her so his interest in Hilary wasn't quite so obvious.
"She's a manicurist. Has a salon out of her house."
"The house where I dropped you off last night?"
"Sort of. The two-story one on the other side of the pool." Something very much like silverware on dishes clanked on her end of the conversation. "I'll text you her number."
Tripp's mouth went dry. He didn't want to call a perfect stranger and ask her out. How did he even phrase that? He had a hard enough time asking out women he knew.
"Can't you, I mean, maybe you could set it up?"
Hilary laughed. "And then you can debrief me afterward. Is that it?"
"I'm not cold-calling someone I've never met."
"Just a sec." The chaos on her side of the conversation dimmed and then disappeared. "So you want me to set up a meeting?"
"That would be nice, yes." Tripp hated the direction this conversation had taken, hated that he'd called Hilary at all. He wanted to go out with her.
"So I get to be your matchmaker?"
Tripp rolled his eyes. "This call was a mistake."
"No, no," Hilary said. "Don't hang up."
"Why would I hang up?"
She laughed, but now it had a nervous edge. "I don't know. Listen, we should meet this afternoon. I can find out what kind of woman you're looking for and go from there."
"I don't—" Tripp couldn't finish the sentence. He wanted to see her, and if that meant he had to pretend to be interested in dating her friends…. It wasn't his worst option. "What time?"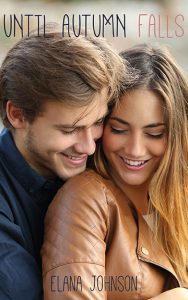 Until Autumn Falls is available for purchase at all eBook retailers. Or feel free to purchase a copy at your local bookstore!
Amazon • iTunes • Nook • Google Play • Kobo