This week Cleis Press sat down with writer Vincent Wilde to get a behind the scenes look at his writing process and inspiration for his most recent book, The Combat Zone, which came out in January 2017.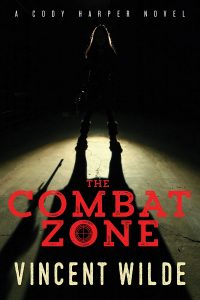 What was your inspiration for the book?   
Vincent Wilde: I've always been interested in mysteries and the detective genre, but, in this case, the seed for The Combat Zone came many years ago and arose out of my increasing frustration and horror about the tactics used by right-wing groups, particularly those opposed to the gay rights movement. I felt they needed to be called out, and my fiction was the best way I could find a strong voice without being polemical. Under ever-increasing pressure, we must continue the fight for equality and justice. Just when you think the battle is won, another enemy steps forward.
Your book is an interesting example of cross-genre fiction. What inspired you to write a book that combines the erotica, suspense, and crime genres?
VW: To be honest, I never really thought of the book in that way. The best way to present the story, I thought, was to take a killer who preyed upon the "underbelly" of humanity, and write a protagonist who had known that life and had no real shame about coming to terms with his past. Cody Harper's strengths lie in his loyalty to his friends, knowing his true self and also knowing his limits. The Combat Zone, Boston's sanctioned red-light district, is no longer there, but I felt it was the perfect setting for an antagonist whose sexual and social worlds violently collide.
Photo from Boston.com
Photo from Wikipedia
Instead of just being a traditional sleuth, Cody is also a cross-dresser. What was the thought process behind that decision?
VW: I thought Cody would be a nice addition to the genre, but I also have friends who enjoy drag and are practitioners of what I would characterize as an "art form." Drag also delivers wonderful and engaging benefits to the community. Thanks to those friends, I added realistic detail to the story by combining their knowledge with Cody's love of drag and leather. It also gives him the option of becoming another personality—Desdemona—when the story requires it. Drag keeps his enemies guessing as he tries to solve the crime.
Where there any writers that you looked to for inspiration?
VW: Quite a few LGBTQ writers paved the way for my addition to the genre. John Rechy's City of Night, was a revelation in its candor and stunning presentation. I've always been a fan of our groundbreaking mystery writers such as Richard Stevenson, Nathan Aldyne, and Michael Nava.
I also want to touch a little on your writing proccess so let's just jump right into that. Did you have any difficulties or was there anything that you struggled with while writing the book?
VW: No writer wants to admit a struggle with any book, but The Combat Zone was a novel near and dear to my heart, and one, as I pointed out, that sprang from my concern about gay bashing. The most difficult thing about writing a mystery, I think, is discovering a plot hole in the middle of the story that the writer hasn't planned for. Thus, you've written yourself into a corner and sometimes it's hard to get out. I found myself in just such a disaster about half-way through the novel. My first response was to scrap the book, but I loved Cody and had too much invested in him as a character. It took about three months of creative thinking for me to get back on track. I find that when the writing stops something's wrong with the plot. The character usually lets you know what needs to be fixed because he or she won't go the direction you want to take.
Wow, three months. I definitely think it's safe to say that you're a pretty determined and self-disciplined writer, but how do you deal with the archenemy of all writers: writers block?
VW: Some days it's hard to go to the keyboard. I get over that by tricking myself into believing I only need to write 100 words—that's hardly more than a typical e-mail. Of course, I find myself writing more and more, and pretty soon I've written two or three pages. Usually that works like a charm. But I think it's fair to say that on some days you don't need to write. I don't subscribe to the theory that you MUST write every day. If you don't feel like writing, give yourself a break and take the day off. The next day, I find I'm charged and ready to go back to work. Also, writer's block exists. I know because I experienced it. For me it wasn't a question of not wanting to write, or failing to put myself into the chair. There's a huge difference between being lazy and true writer's block. Severe writer's block stems from a deep psychological concern. The writer who suffers may need therapeutic help to solve the underlying issues.
That email trick is a great idea and I might have to steal it to use when I'm writing. But let's face it, even if you want to write sometimes you just don't have time to sit down and get out a few pages. How do you find a balance between your writing life and your everyday life? 
VW: Writers make time to write no matter whether they work full-time or not. Don't get me wrong, it's incredibly difficult to crank out pages when you have job and family obligations. But, it can be done. When I was working full-time, I wrote on Tuesday, Wednesday and Thursday nights and on weekends. I was happy with an hour's worth of work on weeknights, but usually I did more. On weekends, I worked between loads of laundry and bouts of cleaning house. It can be done. I balanced my life by giving myself Monday and Friday nights and weekend nights off. Now that I don't have to work full-time, I set a daily word goal that I strive to meet five days a week while I'm working on a book.
You've already given some great tips, but do you have any other advice that you'd like to give to writers who are just starting out?
VW: The best advice I can give to anyone wanting to get started in this business is: start now. I've heard so many would-be writers say, "I've always wanted to write a book." And I ask, "So, what's stopping you?" Unless you're a genius, your path to publication most likely will involve writing hundreds of thousands of words and a couple of failed novels before you get on track. I know there are always exceptions, but I think most writers have a period of breaking in, almost like an internship, when everything is up for grabs, including subject matter, stylistic formation, etc. The sooner you know what you want to write the better. Also, read, read, read! I think all true writers are readers. And you need to read outside your genre.
The "reading outside your genre" advice is fantastic! Finally, my last question: Now that this case is closed, what's next for Cody Harper?
VW: There is a sequel: An Absent God, scheduled to be published in November 2017 by Cleis Press. Cody has always been a loner, but in An Absent God, he finds a love interest, Anthony Vargas. "Settling in" is something new for Cody and, in its own way, the process is just as scary and challenging as dealing with a murderer. The sequel also brings back a few characters from The Combat Zone, including Cody's old nemesis, Rodney Jessup. It's my hope that Cody Harper entertains, but also makes readers think seriously about social issues that affect us all.
Vincent Wilde is the author of the Cody Harper mystery series about a cross-dressing sleuth who enjoys wielding a whip as much as slipping into a silk chemise. He also is the author of numerous novels and short stories in other genres. Some of his influences include Edgar Allan Poe, H.P. Lovecraft, Shirley Jackson, Oscar Wilde, Daphne du Maurier, Richard Matheson, Sir Arthur Conan Doyle, and any work by the exquisite Brontë sisters.