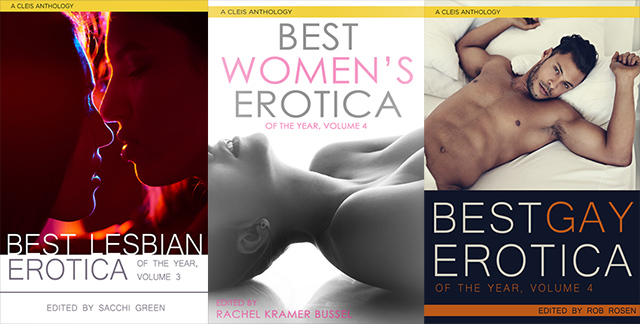 What a way to end the year! The latest additions to the steamy illustrious "Best of…" anthologies will resonate with you long after you've finished them! In Best Women's Erotica of the Year, Volume 4, award-winning editor Rachel Kramer Bussel has gathered the hottest sexy stories starring outspoken women who daringly pursue love and lust. Much like a fine wine the Best Gay Erotica series just keeps getting better with each passing year. Enjoy erotic stories about dominant men standing tall and powerful over their submissive, to dashing men with looks to kill for in Best Gay Erotica of the Year, Volume 4 edited by Rob Rosen! Wait, it doesn't stop there! Best Lesbian Erotica of the Year, Volume 3 proves to be a successful addition to this body-tingling series—the gold standard for erotic lesbian fiction. Edited by award-winning editor Sacchi Green, this latest edition is sensual, inventive, and utterly breathtaking as it pushes lesbian lust and desire to new heights! So dress down and cozy up with any of these hot erotic additions! They'll keep you warm all season long!
---
What makes these additions stand out from the rest? Find out from the editors themselves who sifted through piles of entries and selected the ones that truly captured the desired themes
like Rachel Kramer Bussel of
Best Women's Erotica of the Year, Volume 4:
The first three volumes of Best Women's Erotica of the Year didn't have official themes, but when I was compiling Volume 4, I decided I wanted stories on the themes of Outsiders and Risk. While on the surface those may seem 
incongruous, both spoke to me regarding current events and seemed urgently relevant. At a time when outsiders of many kinds are being ostracized, discriminated against, and shunned, I wanted to explore what being an outsider
feels like on a deeply personal level. I always want the authors I publish to turn readers on, but this time, I also want to make you think.
I left it to my authors to define what exactly an outsider means to them, and their characters. All of us have likely been outsiders at one time or another, depending on the circumstances. Outsiders may be able to learn something about themselves via insiders, and in the process enjoy some hot sex…Taking risks in the face of fear has certainly cropped up in past volumes, but the risks the characters take in these stories are heightened. Sometimes these risks are erotic in nature, like trying something new for the first time, for instance posing for an erotic calendar, as the heroine of "Take the Shot," by Mica Kennedy. Sometimes the risk itself is a turn-on, such as the illicit but utterly arousing behavior of the naughty narrator in "The Dressing Room," by Alessandra Torre.
Sometimes these risks, while sexual in nature, involve confronting aspects of these characters' core selves that require a great amount of bravery. In "Her Invisible Prison," by Jocelyn Dex, Eden faces a battle between her desire and her agoraphobia. Her steps out of that "prison"are hard fought and all the more exciting. And lest you think a story involving mental health can't be scorching 
hot, Dex will surely prove you wrong. While passion and desire are at the heart of these tales, there's more happening than simple arousal. There's a little something for everyone, I'd like to think, within these pages…I hope, at least in some small way, this book entertains you and gives you inspiration to take the kinds of risks these characters do.
…..
---
Rob Rosen of Best Gay Erotica of the Year, Volume 4:
For those of you who are unfamiliar with my writing, I'm a romantic-comedy author by trade, frequently in the speculative genre. And so, whilst whittling—and since reading and enjoying what one is reading is oh-so subjective—I found myself choosing stories for you that fall into three categories: comedy/madcap, sci-fi/speculative, and general fiction, almost all of it of a romantic nature, a hundred percent of it of the high literary caliber that you've come to expect from this annual collection.
For comedy/madcap, there's Clare London's after-hours romp in a dentist's office in "Open Up"; Nelson House's "Dirty Tricks," with its dirty double-crosses and sneaky Republican senator; Richard May's naughty Hanukkah-present-filled "Eight Nights"; the farcical romp through the streets of Florence, "Renaissance Miracles," by the superbly imaginative Michael Ampersant; and closing out the collection, Richard Michaels's "Forward into the Past," featuring a private dick you won't soon forget.
Sci-fi/speculative takes center stage in Jordan Castillo Price's vampiric-virus tour de force, "Appetite." Kyle E. Miller chooses humanity over the divine in "The Temptation of the Gargoyle." Vincent Meis's "Blade of Grass" takes us on an unexpected journey into Turkey. And Michael Roberts has us howling with his cloning mishap tale, "Reflections."
But, of course, there're even more stories to follow, all of them expertly written and deeply erotic, all by some of today's best and brightest M/M writers, hailing from all over the United States, plus Canada, the United Kingdom, and France. So, sit back and relax—perhaps spread-eagle or on your knees, just as a suggestion—and enjoy Best Gay Erotica of the Year, Volume 4!
 …..
Sacchi Green of Best Lesbian Erotica of the Year, Volume 3:
We open a book hoping to be taken somewhere—to faraway places, into the lives and inner thoughts of intriguing characters, or into times past or even unexplored depths of ourselves. If the book is classed as erotica, we also expect to be intensely stirred both sensually and emotionally. The beauty of an anthology is that we can expect to be taken in multiple directions, and meet an assortment of characters with a wide range of viewpoints."
"Here are some hints as to where the stories I chose will take you, and what you may find there. Could there be a better start than the fantasy-fulfillment story, "Ninjutsu," set on a plane high above the Pacific en route from Tokyo to Honolulu? And what could feel more real than longtime lovers waking in the "Morning Fog" of San Francisco? How about touring the South of France in "Perfume," a massage in a Moroccan public bath in "Fuck Me Like a Canadian," a cabin "Where There's Smoke" in the snowy North Country, and the surveillance area above the ceiling of a Las Vegas casino where "Oliver: Twisted" begins?"
While most of the stories have contemporary settings, two more are set, at least partially, in the past. If you're old enough to have been swept up in the rock and blues bands frenzy of the '60s and '70s, you may catch the significance of September 1970, and even if you aren't that old, you'll find out in "Jani-Lyn's Dragon." On another tack, "The Night Shift" proves to be just the right time for accidental phone sex. Then the familiar professor/ former student theme of "Rules" travels in unexpected directions and gets as steamily entertaining as they come, while the queer bookstore in "Rainbow's End" provides an ideal place for a hesitant would-be writer to find just what she hardly dared hope for…Yes, all of these stories include hot, intense sex, in its many splendored manifestations… A word of caution: you may not get jet lag from this journey, but a suitable recovery period between stories is highly recommended. Trust me.
 …..