Note: For an extra-special experience, imagine your favorite "Bawston"-based character's voice reading the excerpt below. Options include, Ted the Bear or Mark Wahlberg from the Ted movies, this classic SNL skit with Rachel Dratch and Jimmy Fallon, or Will (Matt Damon) or Chuckie (Ben Affleck) from Good Will Hunting.
. . .
Did you know that Bawstonians ah the freakin' best at makin' sex? It's a fact. Just ask any Bawstonian. Fuh hundreds of yeahs, they have followed the lessons and guidance of this book: You may have heard of The Kama Sutra, but you've nevah known sex until you've read The Kamah Sutrah. This book will unlock ya deepest curiosities when it comes to sex. It will ansah ya toughest questions like "What do I do with my junk?" and "What if I can't get any sex?"
It has passion. It has positions. It has penis puns. So hold on to ya "Fenway Franks" and ya "Dunkin' Donuts", because we are about to go down to Bean Town!
. . .
Chaptah 1:
Is Sex the Only Thing I Need to Be Happy?
Absolutely nawt ya big dummy! Theah ah so many othah things in life that ah just as impohtant as sex. The Hindus believed that each person needed to achieve foah life goals, and Kama (desiyah) was only just one of 'em. The othah three ah Dharma, Artha, and Moksha. Dharma is to be knowledgeable in ethics, Artha in wealth, and Moksha in freedom and salvation. Howevah in Bawston, theah are only three life goals you must practice that will lead to you livin' a well-balanced life. 'Cause ya see, life is all about balance, just like ya diet. Except, with life, theah ah no cheat days. So, ya bettah fuhget about ya Weight Watchers subscription, because it ain't gonna help ya heah. You gotta get ya life in shape, and this book is gonna help to be ya fitness instructah. The three life goals fur every Bawstonian to achieve balance in ah Loyalty, Pride, and Kahmah.
Loyalty is pretty much livin' in every Bawstonian's blood frum the day they'ah boahn. If ya frum Bawston, ya bettah be Bawston Strong because if ya nawt then what ah you even? Bawston Weak? That just sounds stupid, and I bet it doesn't look half as good on a T-shirt. Bein' loyal to ya city is just as impohtant as bein' loyal to the pahtnah ya havin' sex with, because Bawston is the only pahtnah that will nevah leave ya. Theah's gonna be times when ya wanna travel the world. Ya may even wanna move away furevah and live in New York like a Gawd damn Stahbucks-drinkin' traitah who mastahbates to Derek Jeter's fat face, or whatevah those stupid idiots do. Nevah fuhget Bawston, because Bawston nevah fuhgets you. Besides, she's had worse lovahs who have screwed her ovah. Lookin' at you Johnny "Darth Vader" Damon.
Pride is what drives the people of Bawston. We may be a smallah city, but by Gawd we make up fur it in a giant unexplained amount of confidence. We ah like a shawt guy at a bah who picks fights fuh no reason, but then buys everyone a round of drinks. That's Bawston Pride. We ah like a drunk girl on the T who throws up, but then takes a swig frum her handle of Georgi vawdka and yells at the cops that she "can do whatevah I want" because "it's my eighteenth birthday." That's Bawston Pride. We ah like a city who keeps diggin' a big hole undah the city just to make a few small changes to the highway despite financial setbacks, design flaws, and even one death. I mean that actually did happen and it was called the Big Dig, but we would do it all ovah again in a hahtbeat! Ya know why? 'Cause we ah Bawston Proud, and so should you be.
Kahmah is one life goal that Bawstonians need to talk more about. Don't get me wrong, Bawstonians love sex, but nawt all of them are educated completely on it as a subject. Whethah ya live on Beacon Hill with the wealthiest Blue Bloods of Bawston, or ya live in sin in the city of Lynn, you should be educated on the tawpic. It's nawt just gettin' the dirt on doin' the dirty. It's about really gettin' to know yaself and ya pahtnah's ins and outs (no pun intended). Who ah you as a lovah? What ah ya interests? What ah ya desiyahs? These are all questions that ya may have nevah asked yaself because you "don't have time" and ah "just too busy." Bullshit. Make the time to get to know ya bawdy, ya mind, and ya self. I might sound like ya mothah heah, but heah me out. Ya gotta take a break frum Facebook, or Instagram, or that personal website ya creatin' to become a "professional photographah." Ya took one good pictcha of a tree without leaves in wintah with portrait mode on ya iPhone and now ya think ya Andy Warhol. Chill out. Take a break every once in a while frum everyday life so you can staht to fully enjoy ya sex life.
Don't know how to disconnect frum the preshah's of everyday life? Here ah some tips frum Bawston on how you can best cleah ya mind so that ya bawdy can be ready fuh sex.
Light a scented candle ya bawt frum the Christmas Tree Shawp that's called Pine Tree Forest Whitaker.
Lie on Carson Beach and have ya best bud perfoahm acupunctcha on ya with some of the used needles frum the beach.
Meditate fuh six houahs while you wait fuh ya Megabus at South Station that's running six houahs late.
If ya down the Cape, play a calming round of miniatcha golf at the iconic Pirate's Cove Adventure Golf in Yarmouth.
Find a bubblah, and while the watah dribbles out, close ya eyes and pretend like ya listenin' to the crashing waves of Nantasket Beach.
Drive by the iconic Rainbow Swash gas tank neah Intahstate 93, and breathe in the mixtcha of gas and old paint until ya high as a kite.
If it's summah, sit at night in the Commons and listen to the calming sounds of crickets chirpin' and the distant sounds of bickering tourists who ah lawst and tryin' to find the nearest T stawp.
If it's wintah, take a stroll right aftah a snow stoahm and listen to the beautiful crispy crunch of the freshly fallen snow undah ya boots as you carefully try to avoid stepping in dawg shit.
Some people may think that sex is a taboo subject. They'ah worried about learnin' moah because they were always taught that sex is a bad thing. But sex isn't a bad thing. You know what is a bad thing? When some sociopath fahts on a crowded T train durin' rush houah. Even a priest would condemn a psycho like that to burn in the eternal flames of hell. Sex isn't soundin' so bad now is it? If we don't educate ahselves, then we won't know how to educate ah kids and they won't know how to educate theah kids, and so on, and so on. Then we'll be stuck in a world filled with people like Jamie Lynn Spears and Casey Aldridge. No awffense to Jamie Lynn Spears; I'm a huge fan of her work.
.  . .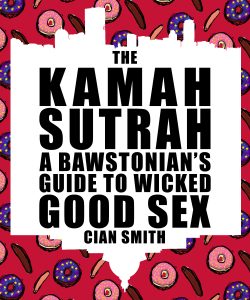 The Kamah Sutrah by Cian Smith is available today everywhere books and ebooks are sold. Or, even better, support your local independent bookstore and place your order through them!
Amazon • iTunes • Nook • Google Play • Kobo