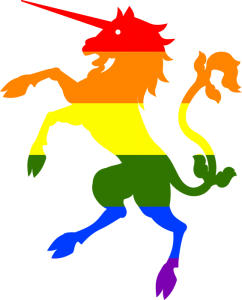 Are you the child of LGBT parent or parents? Are you a fantastic writer with a keen sense of wit and retrospection with a unique, true story to tell? If so, you now have a chance to be a contributor in Raised By Unicorns, a new book by America's favorite "Gay at Home Dad", Frank Lowe.

Raised By Unicorns: True Stories of People Who Grew Up With LGBT Parents will be published by powerhouse Cleis Press, and aims to be an anthology that reflects on the experience of being raised by a gay, lesbian, transgender, or otherwise queer parent or parents. While stories of promise and love are of great appeal, we also seek tales of discrimination, defeats, and setbacks. This volume ultimately seeks to portray a true representation of this particular niche of the human experience.
In order to be considered, you must have a US mailing address and your story must be 3,000 to 5,000 words. Potential contributors need not identify with a particular gender. All submissions are due by July 16, 2017 and can be submitted to Frank Lowe directly at rbubook@gmail.com.
Frank Lowe is a contributor to The Advocate and is a self-proclaimed "Stepford Gay". He has an active YouTube channel and can be followed on Twitter as @GayatHomeDad.